Unfair Competition: Advice from the Specialist Attorney for Competition Law
Unfair Competition - An Example: Imagine you are offering a service or a product and diligently comply with all applicable regulations and requirements. Of course, you are not alone in the market, but you always have competitors.
One of these competitors systematically and regularly disregards the applicable laws and regulations. Doesn't sound very fair, does it?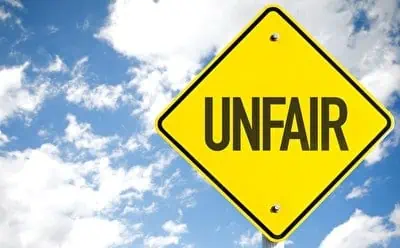 The legislator has a name for such behavior: It is referred to as unfair competition. In this post, you will learn what this means and how I, as a specialist attorney, can assist you.
Contents
1. Unfair Competition - What does it mean?
Under the term "unfair competition," the legislator encompasses all activities that contradict good morals.
In short, it includes all actions in business dealings that are unfair and therefore prohibited.
To establish a legal basis against such business practices, the Law against Unfair Competition (UWG) was enacted. Additionally, various ancillary laws or regulations must be considered.
2. What is the UWG?
The Law against Unfair Competition (UWG) has been in existence in Germany since 1909 and has undergone updates over time. It serves to protect entrepreneurs from unfair competition and prohibits competitive practices that violate good morals.
The UWG is divided into four chapters:
Chapter 1 deals with general conditions. This includes the definition of when a violation of competition occurs, followed by specific violations.
Chapter 2 covers the legal consequences and regulates, for example, questions regarding compensation for damages.
Chapter 3 addresses procedural provisions, such as jurisdiction.
Finally, Chapter 4 deals with criminal and fine provisions, the sanctions that can be imposed in case of a violation of the UWG.
3. Who is the UWG addressed to?
The Law against Unfair Competition aims to protect competitors, consumers, and other market participants from unfair practices.
The central concept is the competitor, which refers to any entrepreneur who is in a concrete competitive relationship with other companies. The term is generally interpreted broadly. It is therefore not necessary to sell exactly the same articles or be at the same distribution level.
Competitors are not only called upon to behave lawfully themselves. Due to their proximity, they are also entitled to penalize any violations committed by their competitors through a warning letter.
4. What activities violate the UWG?
Naturally, there is competition and rivalry among different providers in the economic sector. However, certain forms of competition are prohibited and considered unfair competition.
Systematic poaching of personnel is particularly significant for companies operating in knowledge-driven industries.
On the other hand, product imitation can be observed across all industries. Imagine you have invested a lot of time and financial resources in developing a specific product. Subsequently, a competitor presents a product that is identical to yours in every detail. The competitor has copied your product without your consent, without having invested the corresponding time and money into research themselves—or without having had to.
Comparative advertising falls into a similar category. Simplified, it is not permitted to compare one's own product to competing products in advertising, always with the aim of portraying one's own product in a better light than that of the competitors.
4.1. Disparagement of Competitors
Under unfair competition, it is considered improper to denigrate or defame the goods or services of competitors. This essentially includes cases of so-called abusive criticism, which are statements that generally devalue competitors without factual basis. It also encompasses derogatory factual allegations.
The aim is to prevent a competitor from disparaging their rivals beyond justified criticism (and thereby dissuading their customers from further contract conclusions).
In case law, disparagement has been affirmed in the following accusations:
Operation of an "illegal website," demanding "unjustified surcharges" and "excessive prices" (BGH WRP 2014 548 Rn. 41 - English press release)
Employment of "falsely self-employed" individuals (OLG Oldenburg, WRP 2013, 943 Rn. 89, 90)
Unjustifiably using the designation "Made in Germany" (OLG Cologne, GRUR-RR 2015-77)
4.2. Hindrance of Competitors' Sales
Unfair competition also includes deliberately hindering one or more competitors. This usually includes cases where a competitor attempts to hinder the sales, products, or operations of their competitor through:
the use of violence or
(mental) pressure as well as
boycott or
disparagement and
smearing of competitors.
In the case of hindrance of sales, intercepting or poaching customers from a competitor is particularly significant.
The customer base of every company has significant value. However, it is inherent in free competition to attract new customers. The Federal Supreme Court justifies the permissibility on the grounds that a company's customer base is not a protected legal asset (BGH, judgment of November 8, 2001 - I ZR 124/99 (Celle) - Rental Car Compensation). Instead, it corresponds to the nature of competition for companies to acquire customers from competitors and thereby expand their customer base.
Practically, customer interception is most relevant in the context of:
Google AdWords campaigns,
search engine optimization (meta tags), or
so-called typo domains.
4.3. Price Undercutting
Competitors are free to set their prices. Every entrepreneur can decide whether to offer their prices with or without profit.
Selling below cost or giving away products for free is generally permissible.
Price undercutting becomes impermissible when the price does not cover costs and is intended to drive competitors out of the market. The intention to eliminate someone will be difficult to prove in practice. Typical cases are so-called bait advertising. In this case, a product is offered below cost without having a sufficient quantity in stock.
Bait advertising can often be found in the brochures of large supermarkets or electronics retailers. It is the responsibility of the respective advertiser to prove that the offers are also sufficiently available. If they are sold out within a few hours, this is usually a clear indication of bait advertising.
4.4. Disclosure of Trade Secrets
Not only is the disclosure of trade secrets unfair, but it is also a criminal offense. This becomes relevant, in particular, in cases of termination of employees or commercial agents. Subject to a valid non-compete agreement, a commercial agent is free to start working for a competitor or establish their own business after terminating their activity.
Customer lists, in particular, have a special value for commercial agents. It is permissible and indicative of free competition if the agent attempts to poach customers they are personally acquainted with. However, the use of entire customer lists constitutes a disclosure of trade secrets.
4.5. Violation of Information Obligations
It is not surprising that advertisers are also required to comply with applicable laws. If a competitor violates a provision that is intended to ensure fair competition, an impermissible action has occurred.
These regulations include legal information obligations. Violations of the duty to provide an imprint or improper cancellation policies are the subject of a significant number of warnings. The same applies to the use of unlawful terms and conditions clauses, as well as the clickable link to the online dispute resolution platform.
Many of these obligations are perceived as bureaucratic and typically do not directly affect sales. It is all the more annoying when a warning is received due to such a trivial matter.
Violations of labeling requirements are also increasingly relevant. For example, the fabrics used in textiles must always be correctly identified in accordance with the provisions of the Textile Labeling Regulation. It is not permissible, for example, to use acrylic instead of polyacrylic or to use pashmina for fake Kashmir articles.
Similar rules apply to food products. Here, compliance with the Food Information Regulation is mandatory. The nutritional values, ingredients, and quantity indications must be properly declared.
4.6. Advertising with Self-Evident Facts
Advertising with so-called self-evident facts is also impermissible. This occurs when the customer is deceived about an alleged special advantage of a service. It is generally problematic if the advertiser
advertises with an invoice showing VAT,
emphasizes the existence of legally mandatory warranty rights, or
promotes an article as original.
If the advertising is also placed in a particularly prominent position and without a reasonable basis, it is impermissible.
4.7. Warranty Advertising
It is also unfair to advertise with a warranty without specifying the warranty terms and indicating that the statutory warranty rights are not limited by this warranty.
4.8. Systematic Recruitment of Employees
The recruitment of employees is generally permissible (see BGH GRUR 2006, 426 - Direct Approach in the Workplace). The recruiting company may also proceed systematically, hire headhunters or personnel consultants, and is not required to consider the number or position of the recruited employees. It is also generally acceptable to obtain knowledge of the business processes of a competing company through targeted hiring of its employees.
This is justified by the fact that every entrepreneur can protect their employees through the agreement of contractual non-compete clauses (§ 75 f. HGB).
However, it is necessary for additional circumstances to be present, meaning that the recruiting party pursues reprehensible purposes or employs reprehensible methods. For example, it is unfair if the recruitment is done with the intention to hinder the competitor. It is evident that proving an intention to hinder in practice poses difficulties.
It will be affirmed if the recruiting company has no need for the recruited employee or if it recruits employees from a competing company without regard for the labor market, i.e., disregarding applications from other employed or unemployed candidates.
4.9. Inducing Breach of Contract
It is generally unfair to induce employees of other companies to breach their contracts. Breach of contract occurs, for example, when a forced termination is provoked or when an existing (and known) non-compete clause is violated. It is considered sufficient that the decision of the recruited employee is confirmed by the competitor. Therefore, it is not necessary for the competitor to actively encourage the breach of contract.
In the literature, however, there is a discussion as to whether mere inducement to breach the contract is sufficient or whether further measures (e.g., pressuring the employee by providing an extremely short period for consideration or disparaging the current employer) are required.
4.10. Direct Approach in the Workplace?
Personally and unsolicitedly visiting an employee at their home or workplace is unfair. However, it is permissible to call an employee at their workplace as long as the call is limited to a brief description of the matter and the agreement to arrange a callback.
A brief phone conversation to establish contact at the workplace is permissible.
On the other hand, it is not permissible to already inquire about the candidate's resume during this phone call (BGH GRUR 2008, 262, para. 13 Direct Approach in the Workplace III).
(Arbitration) claims for damages may exist against the recruited competitor.
5. What happens in case of a violation?
In the event of a violation, the company may face a costly warning letter or even expensive legal proceedings in the form of a restraining order and/or an action for injunction.
Not only competitors are entitled to take these steps. Consumer protection organizations, interest groups, and chambers of commerce and industry can also penalize certain violations.
Criminal proceedings
As a victim of defamation, libel, or insult (§§ 185 ff. StGB), you can also take legal action against this criminally. You should file a complaint. The public prosecutor's office then has the option to initiate an investigation and clarify the criminal offense.
Through access to files at the public prosecutor's office, we can also gain important insights that may be relevant to the civil proceedings.
6. Conclusion on the Legal Situation
The legal situation regarding competition is quite clear. The task of an entrepreneur is to develop unique products and behave fairly in their marketing efforts. This applies to both competing companies and the target audience, i.e., consumers.
Especially for young companies, rapid establishment is desired, and they often employ intensive and sometimes aggressive marketing strategies. This is understandable and, to some extent, justifiable as long as the legal framework is respected and adhered to.
But beware: The Law against Unfair Competition (UWG) should not be misused, for example, to unjustifiably discredit a competitor.
Complaints must be genuinely justified. If the complaints serve only the purpose of burdening a competitor with high costs for lawyers and warnings, they can and will be dismissed by the competent court.
7. Unfair Competition: Better Consult an Attorney
The legislator has established clear regulations when it comes to unfair competition. If you have a legitimate impression that one of your competitors is violating the principles of fair competition and the UWG, it is best to consult a specialist attorney directly.
Even if you are suspected of engaging in unfair competition, it is worth seeking advice from an attorney specializing in competition law!
With their knowledge of the legal framework and their experience, they can assess the situation accurately and provide you with guidance and assistance to ensure that your rights are protected.
Image credits: © gustavofrazao | panthermedia.net
I started working as a lawyer in 2006 and have been advising clients in competition and trademark law for more than 10 years. Since June 2015 I have been a specialist attorney for industrial property rights and since May 2013 a partner in the firm of HELMKE Attorneys at Law and Tax Advisors and Patent Attorneys. I studied law in Hamburg, Madrid, and Wellington (New Zealand) and hold a Master of Laws (LL.M.).