The non disclosure agreement (NDA) - What you need to know about it!
A non disclosure agreement (NDA) is a written agreement in which the parties agree not to disclose the results of negotiations, confidential documents, discussions, etc. The NDA is a form of confidentiality agreement.
In this agreement, the contracting parties undertake not to disclose any information to third parties. Synonymous terms are non disclosure agreement, non disclosure agreement, non disclosure contract or non disclosure agreement.
In contrast to a trade secret, which is subject to a legal anchoring, there is contractual freedom with the non disclosure agreement NDA.
This means that the contracting parties have a free hand in shaping the content, provided it does not violate applicable law, statutory regulations and prohibitions or morality.
Content
1. In which cases does a non disclosure agreement NDA make sense?
Non-disclosure agreements are used in many areas and have great practical significance in everyday business life.
They are intended to protect business secrets and special know-how of companies that become known to the respective contractual partner in the course of joint projects and other cooperation.
Confidentiality agreements are usually concluded: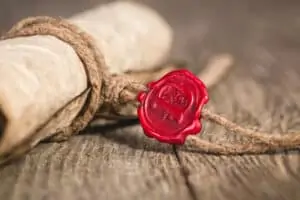 in the initiation of business contacts
between companies and service providers such as advertising agencies or freelancers
in negotiations on patents and related licensing
in company mergers and sales
between companies and their customers and suppliers
between software manufacturers and beta testers
between companies and consultancies, coaches, etc.
between companies and investors
between employers and employees
If you as an entrepreneur are affected by such a situation, you should not do without a non disclosure agreement so that company internals, sensitive data, contents of documents and negotiations are kept strictly confidential by your contractual partner and are not shared with outside persons or other companies.
The timing is also important: the non disclosure agreement NDA is best concluded before the actual negotiations on a cooperation.
2. unilateral and bilateral confidentiality agreements
In a unilateral non disclosure agreement, only one party to the contract is bound to secrecy. For example, if you want to have a mailing printed and sent out by a service provider, you can use a one-sided NDA to stipulate that he will not pass on any address data to third parties.
A two-sided non disclosure agreement is recommended, for example, in the case of a joint product development for which two companies have to exchange certain business secrets and other internal information with each other.
3. Typical contents of a non disclosure agreement NDA
As mentioned above, when drafting a non disclosure agreement, you are free to decide what content you want to include in it and how detailed you want to elaborate it.
However, there are some basic points that appear in almost every non disclosure agreement that you should consider.
Here is an overview of the most important details.
Contracting parties: List the parties involved with their exact designation (ABC GmbH, Mustermann AG, etc.) and company address.
Subject of the agreement: Describe the project for which you want to work with the other contractual partner. Here, too, you should make sure that the wording is precise in order to avoid misunderstandings.
Definition of the information to be treated confidentially: You should proceed carefully here and specify which information - business secrets, patents, special know-how, customer data, etc. - is to be treated as confidential. - can be considered for confidential treatment. Conversely, you can also describe here what is not necessarily subject to confidentiality.
Permissible and impermissible procedures and activities: Define what information may be used for what purpose by both parties. What should be prohibited in any case? Which data may also be passed on to third parties?
Contractual penalties: In this point, consequences are recorded that arise from a failure to observe confidentiality on the part of one of the contracting parties. This could be, for example, the amount of damages to be paid.
Period of validity of the agreement: Specify the full stop of time beyond which both contracting parties must maintain confidentiality.
Applicable law and place of jurisdiction: You can define here that the contract is subject exclusively to German law, for example, and that the place of jurisdiction is the location of your company headquarters.
4. Advantages and disadvantages of a confidentiality agreement
A non disclosure agreement (NDA) is useful to protect you to a certain extent against economic damage and loss of image. This is especially true when it comes to sensitive data.
In the age of digitalisation, however, it can easily happen that information that is part of your agreement is tapped by a third party, such as cyber criminals, and becomes public without your business partner having anything to do with it.
If you then suspect them, this quickly leads to a loss of trust, which can cause the planned project to fail. This may also lead to long and expensive legal disputes.
Also consider that when developing a new product or service with a business partner, feedback from a third party is often necessary to test success or failure. Here, a non disclosure agreement could be rather a hindrance.
5. Do not neglect solid legal advice
A non disclosure agreement (NDA) is a useful basis for contract negotiations of any kind. However, you should think carefully in advance about what contents should be included in such an agreement and what contractual penalties should be defined in the event of a possible breach by your business partner.
As a specialist in intellectual property law, I recommend that you seek advice from an expert. I will be happy to assist you with my experience and in-depth knowledge in this field.
Simply make an appointment with me so that we can discuss your concerns in detail in a personal meeting.
Picture credits: © Vir4ello | PantherMedia
I started working as a lawyer in 2006 and have been advising clients in competition and trademark law for more than 10 years. Since June 2015 I have been a specialist attorney for industrial property rights and since May 2013 a partner in the firm of HELMKE Attorneys at Law and Tax Advisors and Patent Attorneys. I studied law in Hamburg, Madrid, and Wellington (New Zealand) and hold a Master of Laws (LL.M.).