Apply for a design patent - Comprehensive protection in a few steps
A successful design increases recognition among consumers and boosts sales on the market. We explain to you how to register and protect your design ideas as a design patent and which advantages result from a registered design or design patent.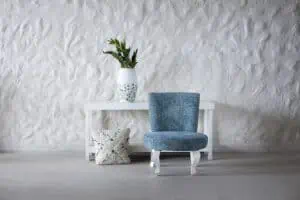 Inhalt
1. What does a design protect?
The design patent protects both two-dimensional and three-dimensional external appearances of products or parts thereof. The appearance results in particular from the features of the
lines,
contours,
colours,
shape,
surface structure or
the materials of the product itself
or its ornamentation (§ 1 Design Act, Art. 3 CDR).
Products are all industrially or manually manufactured objects.
In simple terms, this means that you can protect the shape, colour and design of your products. This includes, for example, logos, characters and graphics as well as fashion, furniture or packaging.
At the German level, the Design Act (DesignG) regulates design protection. One therefore actually speaks of a "design". This refers to both the right and the protected object itself. At the European level, the standards of the Community Design Regulation (CDR) are decisive. Therefore, the term "Community design" is used here.
Attention: Despite the different designations of "design" and "design", there is therefore no difference between the two. The only reason for the different terms is that in Germany the Design Act was renamed Design Act in 2014. On the European level, however, the term "design" was retained.
A design patent/design has the advantage that you are granted a kind of "monopoly position". After successful registration, only you have the right to use the design (e.g. in the manufacture or sale of products). Third parties can only do so with your consent. You can grant licences for this purpose.
In this way, you are protected from imitators who want to adopt your idea without authorisation and profit from it. At the same time, you enhance your position in the market. Aesthetic designs offer incentives to buy and increase sales. The design patent thus has an economic value at the same time.
We regularly advise our clients on the optimal protection of their inventions and product designs.
Make an appointment now!
2. When does design protection arise?
In order to be able to protect an external design, two main requirements are necessary:
a) Novelty (§§ 2 II, 5 DesignG, Art. 5, 7 CDR).
Your design must be new. This means that no identical design may have been disclosed before the filing date - neither by competitors nor by yourself. Your design will therefore be compared with similar designs that already exist.
"Disclosure" in this context means any publication, exhibition or use of the external design (e.g. by presentation at a trade fair, uploading on the internet).
In order to be able to assess the market success of your design, you will be granted at least a "grace period" of 12 months in which to disclose your design idea. Any disclosures you have made in the 12 months prior to the filing date will therefore not prevent novelty.
It is important to note that a so-called objective and relative concept of novelty applies.
This means: If persons from your professional circles in the European area could not have known your design, this is not disclosed. You can therefore still protect the design. However, your competitors will often keep a very close eye on the market and check both the internet and the relevant registers. Therefore, avoid distributing your design without prior application and registration!
b) Eigenart (§ 2 III DesignG, Art. 6 CDR)
Your design must have individual character. For this purpose, the overall impression your design creates on the informed observer must differ from the overall impression of all designs already disclosed.
The informed viewer is a fictitious person who lies between the average consumer and an average professional. He or she is well acquainted with all designs, but does not have a complete knowledge of all designs that have ever existed.
The decisive factor for the overall impression is the available scope for design. The smaller the scope for design, the smaller the differences may be in order to establish individual character. If you have a large scope for design, on the other hand, this should be used.
Example: A car offers numerous design possibilities; glass bottles considerably less. Accordingly, in the case of a car, more attention must be paid to design differences from already protected designs. The design of a glass bottle, on the other hand, can be protected even with quite minor deviations from existing products.
c) Reasons for exclusion
Some forms of design cannot be protected per se. These include:
Appearance features which are exclusively due to technical function (Sec. 3 I No. 1 Design Act, Art. 8 I CDR). For example, the use of two watch hands in a watch cannot be protected as a design.
Appearance features of connecting elements which must necessarily be reproduced in order to be assembled with another product (Sec. 3 I No. 2 Design Act, Art. 8 II CDR - "must fit" clause).
Example: Motor vehicle and exhaust are connected by a screwed sleeve. This sleeve must naturally fit the dimensions of the counterpart in the motor vehicle. Therefore, the dimensions cannot be protected.
An exception exists for so-called component systems (Sec. 3 II - "Lego clause").
Appearance features which constitute an offence against public order or morality (Sec. 3 I No. 3, Art. 9 CDR) (e.g. illustrations with sexual content).
Appearance features that constitute an improper use of state emblems (Section 3 I No. 4 DesignG, Art. 25 I lit. g CDR) (e.g. federal flag, depiction of bank notes).
3. What is necessary for a design application?
Before you want to protect your design, you should think about the market in which you want to appear. The design patent requires filing with the relevant office and registration in the respective register:
For the German area, this is the German Patent and Trade Mark Office (DPMA) in Munich.
At European level, this is referred to as a registered Community design. The European Union Intellectual Property Office (EUIPO) in Alicante is responsible for this.
In addition, there is the unregistered Community design, which already has protective effect if it has been made available to certain specialist circles within the EU. An application is then not necessary. However, the term of protection is considerably shorter than after an application (3 instead of up to 25 years). In addition, there are numerous difficulties of proof if other providers imitate the design. We therefore recommend filing an application.
International protection can also be achieved by filing with the International Bureau of the World Intellectual Property Organization (WIPO).
Your application must contain the following according to § 11 DesignG:
An application for registration
Information on your identity
A graphic representation suitable for publication which reproduces your design. Be sure to include a detailed representation from several perspectives, e.g. by means of sketches, because the scope of protection is determined solely by the description of the design submitted.
An indication of the products for which the design is to be used or for which classes it is to apply.
It is recommended to file the application quickly and easily in electronic form via DPMAdirektPro.
After all information has been transmitted and you have paid the application fee, the DPMA will carry out an examination. However, the examination will only determine whether
your design is eligible for protection at all.
all formalities of the application have been fulfilled.
there is a violation of morality or other regulations.
there is misuse of state emblems and other signs of public interest.
If there are no objections, your design will be entered in the register and published in the Design Gazette.
Attention: The DPMA does not examine whether your design is similar to other existing designs. You must carry out your own search and check whether novelty and individual character are present. This is the only way you can expect extensive protection and prevent legal action by competitors who already have an older design and whose rights you may infringe!
Legal assistance is necessary for legally secure protection of your design. We support you with competence and experience in the field of design protection.
Make an appointment now!
4. How long is the design protected?
Your registered design protects you for an initial period of 5 years from the date of filing and payment of the application fee. The protection can be extended again for another five years by paying a fee, up to a total period of 25 years.
5. What rights exist in the event of infringement of the design?
To ensure comprehensive protection, it is important to continuously check the relevant databases and registers for newly registered designs.
If you discover identical or similar designs and feel that your IP right has been infringed, your "monopoly right" gives you various options. You can
give potential infringers a warning or file a request for authorisation.
file an application for an interim injunction with the court.
demand from the potential infringer by means of injunctive relief (§ 42 I Design Act, Art. 89 Ia, 19 CDR) that he cease and desist from any acts which infringe your registered design.
claim damages from the potential infringer (§ 42 II Design Act, Art. 88 II CDR) for unauthorised use.
demand destruction, recall or surrender (Sec. 43 Design Act).
Demand information (§ 46 Design Act) on where the infringing products come from and which distribution channel they have taken.
initiate a border seizure (Section 55 Design Act) or a criminal prosecution by filing a criminal complaint with the public prosecutor's office (Section 51 Design Act) in order to prevent export.
6. Apply for a design patent: Conclusion
With the design patent (since 2014 generally called design) you can obtain national, European and international protection for external design forms. It is necessary to file an application with the competent office.
Your design must be new and original. You must check this yourself, i.e. the application alone does not provide comprehensive protection against imitators.
The design patent gives you a "monopoly right", which means that you can demand injunctive relief, damages, information and destruction from potential infringers.
Your design is initially protected for 5 years. The term of protection can be extended to a maximum of 25 years.
Picture credits: © Houseoffanusta | Pixabay
Further articles on the topic:
I started working as a lawyer in 2006 and have been advising clients in competition and trademark law for more than 10 years. Since June 2015 I have been a specialist attorney for industrial property rights and since May 2013 a partner in the firm of HELMKE Attorneys at Law and Tax Advisors and Patent Attorneys. I studied law in Hamburg, Madrid, and Wellington (New Zealand) and hold a Master of Laws (LL.M.).