Industrial property protection: warning against imprint
The imprint is part of the so-called mandatory information of a commercially used website.
If the imprint is not correct or if information is missing, you may receive a warning notice, which can become a high financial burden due to warning costs and a contractual penalty.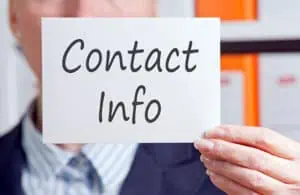 For what reasons you can issue a warning against imprint and what you can do in the event of a warning - you can find answers to these and other questions here.
Inhalte dieser Seite
1. Warning against imprint: Popular reasons for a warning notice
You are the operator of a commercial website and active in social networks and would like to know when you can be threatened with a warning due to an incorrect imprint?
Reasons for issuing a warning against imprint:
Missing imprint: If the imprint on a commercially used website is completely missing, it is a popular object for a warning notice.
Outdated imprint: An imprint is considered outdated if you list an outdated address, telephone or fax number or a managing director who has already left the company.
Incomplete imprint: If an imprint is incomplete, this means that it does not contain all the information required by law. Examples of an incomplete imprint are a missing telephone or fax number.
Missing link to the EU online dispute resolution platform: The missing link is a popular reason for those who want to issue a warning against an imprint. The focus is on entrepreneurs based in the European Union (EU) who sell services or goods to consumers within the EU and where the clickable link to the EU online dispute resolution platform is missing from the imprint. Specifically, this link is www.ec.europa.eu/consumers/odr.
Missing VAT identification number: Another reason for a warning is the missing VAT identification number. You do not have to state the tax identification number or the tax number in the imprint.
The imprint is not accessible from every page of your website. This applies to the homepage as well as to the subpages of a website.
2. The requirements for an effective warning notice
There is no automatic mechanism according to which a missing or incorrect imprint is automatically warned off. Basically, you need a competitor to issue a warning for a missing or incorrect imprint.
However, this alone is not sufficient for a warning against imprint. Instead, the person issuing the warning must assert his or her own claim for damages or injunctive relief.
Such a claim on the part of a competitor exists if the warned infringement leads to an advantage for the owner of the website that is expressly disapproved of by competition law.
3. The information required in an imprint
Section 5 (1) of the German Telemedia Act (TMG) lists the information that must be included in an imprint. Not only commercially used websites must have an imprint.
This also applies to commercially used pages on social media platforms.
Mandatory details in the imprint are:
First name and surname of the operator of the website
Company address
All contact information that enables quick contact, for example the telephone number, fax number and e-mail address.
In the case of legal entities, details of the legal form as well as the persons authorised to represent the entity shall be stated in the imprint.
If the activity requires official authorisation, the imprint must contain information on the commercial register or the register of associations, for example.
VAT identification number (VAT ID or also VAT ID): Every taxable natural person or legal entity receives a tax number from the tax office and, since 2008, a tax identification number (tax ID), which are used for identification within Germany. Companies doing business outside Germany and within the EU must apply for a VAT ID and include it in the imprint.
Anyone who violates these information obligations in the imprint is acting unlawfully according to Section 16 (2) No. 1 TMG with the legal consequence that fines of up to 50,000 euros may be imposed.
4. A warning about an imprint that is faulty or missing - what now?
It is mainly small businesses that receive a warning because of a faulty imprint. They are often not in a position to properly implement the constantly changing design regulations.
And so mistakes happen that can cost money in the event of a warning. A warning notice is regularly accompanied by a cease-and-desist declaration, which you should not sign without further examination.
If you have received a warning because of a faulty imprint, you should first find out
whether the warning is justified,
whether the warning is unjustified or
whether the warning is an abuse of rights.
The result of this examination will determine whether you negotiate with the person who has warned you, whether you sign the enclosed cease-and-desist declaration or whether you initiate interim injunction proceedings.
With a cease-and-desist declaration, you are requested to refrain from the incorrect action in the future, i.e. to correct the imprint. As soon as you sign, you confirm that you are aware that future violations of the law will be punishable.
At the same time, you prevent the initiation of legal proceedings against you. In the meantime, there are some law firms and associations that have made it their business to specifically search for infringements and issue warning letters against them.
If the focus is on earning fees and thus on making a profit, a warning notice can be abusive.
An indication of this is the sending of hundreds of identical warning notices within a short period of time, whereby the burden of proof in this respect is on the person who has been warned.
Under no circumstances should you agree to manipulative cease-and-desist declarations or excessive demands. Instead, seek expert advice and let a lawyer advise you!
Contact us if you have been warned about an incorrect imprint and would like to know what you can do. We also act preventively and help you formulate a legally compliant imprint!
Picture credits: Randolf Berold - Panthermedia
I started working as a lawyer in 2006 and have been advising clients in competition and trademark law for more than 10 years. Since June 2015 I have been a specialist attorney for industrial property rights and since May 2013 a partner in the firm of HELMKE Attorneys at Law and Tax Advisors and Patent Attorneys. I studied law in Hamburg, Madrid, and Wellington (New Zealand) and hold a Master of Laws (LL.M.).