Create GTC - The essential tips from the lawyer
The General Terms and Conditions (GTC) are pre-formulated contractual contents with which companies regulate the contractual relationships with their customers.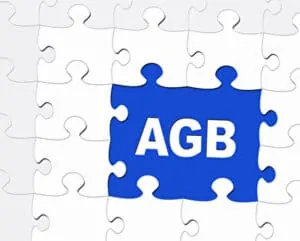 For most companies, it makes sense to create their GTC.
However, various rules must be observed to avoid legal difficulties.
Content
1. What is GTC?
2. Are companies obliged to draw up general terms and conditions?
3. Legal guidelines for the creation of GTCs
4. Different T&C requirements for B2C and B2B
5. Create GTC - through GTC generators or sample documents
6. Drafting of general terms and conditions by a lawyer
1. What is GTC?
With general terms and conditions - the GTC - companies define a legal framework for the relationships with their customers and business partners. Everyone who makes use of the provider's services must comply with these specifications.
The GTC are pre-formulated contractual conditions that regulate all points belonging to a valid business contract. These are, for example, the following points:
Scope of the contract
Conditions of the conclusion of the contract. For example, the GTC may stipulate that a legally valid contract is concluded simultaneously with an order, by the provider's order confirmation, by delivery of the goods, or payment by the customer.
Prices and additional costs (for example, for packaging and transport)
Payment methods and conditions
Default of payment
Delivery details, return options by the customer
Retention of title until full payment of a good
Warranty claims and cancellation policy
Disclaimer
Obligations to cooperate and acceptance of service by the customer
Transfer of rights of use in the B2B area, e.g., the assignment of copyrights
Confidentiality clauses
Final provisions (severability clause and place of jurisdiction)
The business model of your company determines which specifications belong in your GTC.
2. Are companies obliged to draw up general terms and conditions?
No company is obliged to draw up general terms and conditions. If this is waived, the general statutory provisions shall apply to the contractual relationship between suppliers and customers.
With GTCs, you define concrete legal framework conditions for your business relationships. However, the GTC must not violate the essential basic ideas of the law.
Unlawful GTCs will result in a warning and, in the case of faulty clauses, the entire GTCs of the company will lose their validity.
Creating general terms and conditions is particularly advantageous for founders and small companies that use them to regulate their business relationships with large customers.
This prevents you from being subject to the de facto contractual dictates of the more significant partner.
3. Legal guidelines for the creation of GTCs
When you create your GTC, there are several legal regulations to consider.
For example, it is not enough to link to the GTC on your website and make a blanket reference to them. Likewise, it is not sufficient to print them on invoices or delivery bills.
The legislator stipulates that every customer must be explicitly informed that a company uses GTCs and must be allowed to take note of them consciously.
So-called hidden GTCs lead to warnings and penalties.
Furthermore, a commercial agreement shall only become effective if the customer agrees to the General Terms and Conditions on which the contract is based.
In addition, data protection requirements within the meaning of the European Data Protection Regulation (DSGVO) and the amended Federal Data Protection Act must be observed when designing the GTC: personal data may only be collected, processed, and stored within the framework specified here.
4. Different T&C requirements for B2C and B2B
When you create your T&Cs, the distinction between private customers (business to consumer, B2C) and business customers (business to business, B2B) is also important from a legal perspective.
In B2B transactions, for example, it is sufficient to provide the future contractual partner with the GTC during preliminary discussions - if the other party does not object, this will result in a valid contract based on the GTC.
For sales to private customers, on the other hand, the provisions of distance selling law must be observed in the GTC. In this way, the legislator ensures maximum consumer protection. If these requirements are not complied with, companies must also expect strict penalties.
The integration of various contract clauses classified as unreasonable into the GTC is expressly prohibited by the German Civil Code (BGB).
5. Create GTC - through GTC generators or sample documents
Companies that want to make their general terms and conditions without professional support can use general terms and conditions generators on the Internet or sample documents. Both offers are free of charge - you can use them to define your general terms and conditions in just a few minutes.
However, neither tool can replace expert legal advice.
For example, many GTC generators only query the legally required information - additional regulations such as revocation, warranty, or tax aspects are not considered. In the case of corresponding additions, serious legally relevant errors can occur.
Sample templates only provide a general orientation framework, but the legislator requires individual GTCs based on a company's actual business model.
Important: Under no circumstances should you copy other companies' general terms and conditions - even if they fit your company perfectly. General terms and conditions are considered a linguistic work and may be protected by copyright law - in the worst case; this can result in claims for damages.
6. Drafting of general terms and conditions by a lawyer
The best way to create GTC is to work with a lawyer. He will advise you in detail on the design of the GTC for your company and take over the preparation of the contract.
In this way, you can be sure that your GTCs fully comply with all legal requirements and that you do not have to expect warnings and penalties. Alternatively, you can create your GTC yourself and then have them checked and supplemented by a lawyer.
Our law firm specializes, among other things, in intellectual property law. We advise and support you in drafting your general terms and conditions and all other legal issues concerning your business activity and your company.
Then call us at (040) 3501 6360 or write an e-mail to info@kanzlei-bennek.de.
Do you need new general terms and conditions and require legal advice, consciously note them, or would you like to make an appointment?
Make an appointment now!
image source: © Randolf Berold / panthermedia.net
I started working as a lawyer in 2006 and have been advising clients in competition and trademark law for more than 10 years. Since June 2015 I have been a specialist attorney for industrial property rights and since May 2013 a partner in the firm of HELMKE Attorneys at Law and Tax Advisors and Patent Attorneys. I studied law in Hamburg, Madrid, and Wellington (New Zealand) and hold a Master of Laws (LL.M.).