Image copyright - advice from a specialist lawyer
Photographs are a popular medium and digital media in particular would be inconceivable without them. But what exactly does copyright law say about images and image copyright?
Distribution via the internet has many advantages for the creator of the images. However, unauthorised publications and reproductions of copyrighted images occur time and again.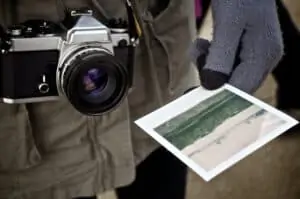 A specialist lawyer for copyright offers comprehensive support in this case.
Content
1. When does copyright apply to a picture?
In general, according to the Copyright Act, all works created by a creative performance that are the intellectual creation of a person are protected.
This also applies to photographs and is independent of whether the images are digital or analogue.
While individuality and creativity are the prerequisites for legal protection in the case of musical works, for example, photographs have a special status, so to speak. In principle, they are protected by copyright.
Pictures with a minimum of artistic value or a recognisable creative achievement are protected as so-called "photographic works" by Section 2 (1) No. 5 UrhG. Simple snapshots in which no such creative claim is recognisable are not covered by this.
However, Section 72 UrhG, which grants ancillary copyright protection to simple photographs, does apply here. In plain language, this means that every photo, whether taken by a professional photographer, a photographic artist or an amateur, enjoys copyright protection.
According to the law, a mobile phone photo is equal to any elaborately staged and arranged, artistically sophisticated photographic work. Only the duration of protection differs.
2. Image copyright: Your rights as a photographer
You are automatically the copyright holder of every photo you create. This means that you have exclusive rights to the photo. These rights are divided into the exploitation right and the moral right.
3. Which rights can be transferred?
In Germany, you can only assign exploitation rights or rights of use to an image.
Copyright, on the other hand, is not transferable and thus cannot be purchased by anyone. Professional photographers are often confronted with the task of transferring the right of exploitation in the form of a right of use to e.g. clients, media or other third parties.
For this purpose, licence agreements are usually negotiated in which the type and scope of the granting of rights is defined in detail. This includes in particular the duration of use, any editing and - in the case of publications in the print sector - the number of copies made.
If the customer is to be allowed to freely dispose of the image, rights of use can also be granted that are unlimited in terms of space and time. A further distinction is made between exclusive and simple rights of use.
Thus, anyone who wants to make his or her photograph available to others should refrain from transferring an exclusive right of use.
4. The unauthorised use of images
Especially in the digital sphere and thanks to the internet, copyright infringements are commonplace. Often this goes unnoticed.
However, if a photographer discovers that one of his or her images is being reproduced, published or otherwise used without his or her explicit consent, you should take legal action against it.
This is because unauthorised use usually gives rise to claims to which you are entitled as the author.
5. The right to credit the author
Even if you have allowed a third party to use your image, your rights may be infringed. It is particularly common, for example, for people to forget to name you as the creator in the context of a publication.
This violates the right to attribution, which applies until you expressly waive it in the individual case.
6. What the author is entitled to in the event of rights infringement
As an author, you first have a right to have the infringement of your rights stopped. This can be enforced by a specialist lawyer.
In addition, claims for damages may arise.
In this way, you can, for example, demand an appropriate fee that would have been incurred in the case of a legally correct granting of a licence. This fee is even higher if your photo is used commercially or even offered as a product.
In addition, there are the costs for legal assistance. You should always seek legal assistance if your photographs are used unlawfully.
It is not uncommon that you have granted another party the right to use one or more photographs, but these are later used beyond the agreed scope.
If, for example, you have limited the period for which your image may adorn a website, it is worth checking whether your work has been taken offline after expiry. In the case of photo prints, the number of copies is usually specified in the contract.
If additional copies are made without negotiating further rights, this automatically results in legal and financial claims for you.
7. Image copyright: How a lawyer can support you
A lawyer specialising in copyright law will be happy to advise you on all copyright issues.
In the event of an unauthorised use of your images that has become known, he or she can locate the person or company responsible, issue a warning, demand a cease-and-desist declaration and assert a claim for damages on your behalf.
In addition, you will receive support in drawing up legally watertight licence agreements for a wide variety of purposes. But the other side will also find help here.
Whether your rights have been infringed or you yourself have been accused of copyright infringement: You will find fast and competent support at your specialist copyright lawyer.
Picture credits: © John Salzarulo | Unsplash
I started working as a lawyer in 2006 and have been advising clients in competition and trademark law for more than 10 years. Since June 2015 I have been a specialist attorney for industrial property rights and since May 2013 a partner in the firm of HELMKE Attorneys at Law and Tax Advisors and Patent Attorneys. I studied law in Hamburg, Madrid, and Wellington (New Zealand) and hold a Master of Laws (LL.M.).