Warning letter by Deutsche Umwelthilfe - what to do?
Have you also received a warning letter from Deutsche Umwelthilfe (German Environmental Aid) e.V. (DUH) with a request to issue a cease-and-desist declaration and to pay the resulting legal fees?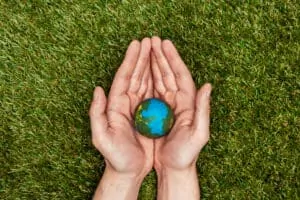 In fact, DUH is entitled to issue warnings, which it does frequently.
What is behind this and what can you do against the warning issued by Deutsche Umwelthilfe? We provide answers to these and other questions.
Contents
1. Warning notice by Deutsche Umwelthilfe - what the Federal Court of Justice says
The German environmental aid organisation Deutsche Umwelthilfe has made a name for itself in the public eye with warnings and lawsuits and has already occupied a German supreme court with this matter.
The complaint was filed by a manager of several car dealerships in the Stuttgart area. His company had also been warned by Deutsche Umwelthilfe on the grounds that it had advertised a new car on the internet and had not provided correct information about CO2 emissions and fuel consumption in connection with the advertising.
In the lawsuit, the managing director of the car dealership in Stuttgart had accused Deutsche Umwelthilfe of mainly wanting to make a profit with its lawsuits. However, the Federal Court of Justice (BGH) in Karlsruhe came to the conclusion in a judgement of 4 July 2019 - Case No. I ZR 149/18 - that Deutsche Umwelthilfe was not in breach of applicable law.
In any case, there was no evidence of abuse of rights, as Deutsche Umwelthilfe was acting within the legal framework with its numerous consumer protection lawsuits against companies.
2. Warning by Deutsche Umwelthilfe - what is behind it?
As a reminder, it is Deutsche Umwelthilfe that is taking massive action against air pollution and has, among other things, pushed through numerous diesel driving bans and sent warning letters to car dealers.
This has recently triggered a discussion about the status of Deutsche Umwelthilfe as a non-profit consumer association. Just like consumer centres and the German Tenants' Association, DUH is a so-called qualified institution that is allowed to issue warnings to companies and sue them if they violate consumer protection regulations.
According to Deutsche Umwelthilfe's own figures, it issues warnings for around 30 violations a week and initiates around 400 court cases a year. In fact, these activities account for a good quarter of Deutsche Umwelthilfe's income - in 2017, that was just under 2.2 million euros.
3. Current warning letter by Deutsche Umwelthilfe
Currently, a large number of cases are known in which companies have received warnings with the request to issue a cease-and-desist declaration with a penalty clause and to pay the lawyer's fees.
This affects, among others, sellers of electrical appliances, car dealers and real estate agents who, in the opinion of DUH, violate the applicable competition law with their advertising measures. In particular, this concerns violations of EU regulations that deal with energy labelling.
Real estate agents, for example, are obliged to comply with the provisions of the regulation on energy labelling. This means that they must provide information on the energy sources essential for heating in their advertising.
Car dealers are obliged to provide detailed information on the average consumption of a vehicle for new cars.
4. This ist the legal situation
Real estate agents are obliged to include in their advertising the mandatory information standardised in § 16 a EnEV, which is essential information according to § 5 a para. 2 UWG.
Among other things, this includes information about the final energy demand or the final energy consumption, the main energy source for heating, the year of construction of the building and the energy efficiency class.
For car dealers of new cars, the regulation on consumer information on fuel consumption is of particular importance. This means that they are obliged to inform prospective buyers about CO2 emissions and fuel consumption in advertisements. Otherwise it is a violation of competition law.
5. Warning letter from Deutsche Umwelthilfe - this is what you should do
If you have received a warning from Deutsche Umwelthilfe, you should first remain calm and keep a clear head.
Act within the time limit set. Under no circumstances should you ignore the warning.
Do not contact Deutsche Umwelthilfe.
Do not rush to sign the cease-and-desist declaration pre-formulated by Deutsche Umwelthilfe. In this declaration you would promise to pay 5,001 euros for each further infringement.
Instead, you should seek professional advice and consult a lawyer. This is a special matter where it depends on the circumstances of the individual case.
If you have received a warning letter from Deutsche Umwelthilfe, the cease-and-desist declaration is crucial. Even with a modification, a violation can result in horrendous contractual penalties if you do not implement the advertising in compliance with the law.
If what you are accused of in the cease-and-desist letter is true, you are generally entitled to a cease-and-desist order. This does not require fault. This means that it does not matter whether you have inadvertently or intentionally failed to provide the mandatory information required by law.
In addition, the chambers of commerce responsible in the regional courts determine the amounts in dispute on the basis of the information provided by the lawyers of Deutsche Umwelthilfe, so that they can range between 10,000 and 50,000 euros.
So do not hesitate and contact us so that we can discuss the next steps together.
Bildquellennachweis: © KateNovikova / panthermedia.net
I started working as a lawyer in 2006 and have been advising clients in competition and trademark law for more than 10 years. Since June 2015 I have been a specialist attorney for industrial property rights and since May 2013 a partner in the firm of HELMKE Attorneys at Law and Tax Advisors and Patent Attorneys. I studied law in Hamburg, Madrid, and Wellington (New Zealand) and hold a Master of Laws (LL.M.).